Heart Month is ongoing through February and aims to raise awareness about the importance of cardiovascular health. According to Health Canada, heart disease affects 2.4 million adults in Canada, and is the second leading cause of death among Canadians.
Moreover, February 14 is not only Valentine's Day, but also International Congenital Heart Defect Awareness Day.
The En Cœur Foundation organizes several activities throughout the month of February to raise awareness of the cause. Our goal is to continue our mission to support even more families living with a child with heart disease.
Join the movement by participating in one or more of these initiatives!
Sutton En Cœur
We would like to wholeheartedly thank all the participants of the 1st edition of Sutton En Cœur, which took place on February 18 at Mont Sutton! Wow! What a success! The En Cœur Foundation would like to thank you from the bottom of our hearts for your participation in this activity, which is very symbolic, because 6 hours is the average duration of an open-heart surgery for a child. Additionally, the event was held as part of Heart Month, which is heart disease awareness month.
Our goal of $35,000 has been greatly exceeded! Over $73,000 have been raised to date to support children with heart disease and their families!
Special thanks to Mont Sutton, Susan Kudzman, honorary chairwoman, the organizing committee, Gabriel and Andrée-Kim, for their involvement and dedication, the ambassadors, Rémi & Mia, Dr. Anne Fournier, the board of directors, our partners, our volunteers, our generous donors, Patricia Demers as well as all those who have contributed directly or indirectly to the success of Sutton En Cœur!
We warmly thank all our partners: Morency cabinets d'avocats, Jean Coutu, Balnea Spa, Avantage+, Previan, Lareau Assurances, Escapade Sutton, Laine et Lin, Marie-Sophie Dion Bar à Lunettes, Notice The Reckless, Medavie Blue Cross and GS Ski Shop. Many thanks to our service partners: Hugues Letellier (DJ), Andres Velilla (DJ), Mathieu Pontbriand (technical equipment), Francis (video), Ils En Fument du Bon (En Cœur sausage poutine), Carlsberg (beers), Cremaglace, Xact Nutrition (fuel bars), IGA Sutton (food) and Progazon (photographer).
Thank you all again for making this event a success. Without your commitment and determination, all of this would not have been possible.
See you next year! February 17, 2024
The En Cœur Foundation team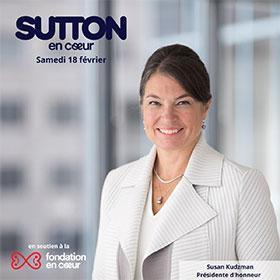 It is with great pride that we announce that Ms. Susan Kudzman, corporate director, has accepted the honorary presidency of the 1st edition of Sutton En Cœur.

Chair of the Board of Yellow Pages Limited, Ms. Kudzman also sits on the boards of Transat A.T. Inc, Medavie and PSP Investments.
A member of Mont Sutton, she loves to ski with her grandchildren!
Rémi, Sutton En Cœur ambassador
Rémi was born in April 2014. During his first year of life, it was discovered that he had a heart murmur, but that the situation was not serious and would probably improve over time.
Later, during a follow-up appointment, the heart murmur was gone, but it was discovered that Remi had fairly advanced subaortic stenosis and surgery was required. Rémi underwent surgery in November 2016 at the Montreal Children's Hospital. The surgery went well, but from the first post-surgery follow-up appointment, it was determined that his condition persisted and that at least another surgery would be necessary in the future because of his growth spurts. On January 4, 2022, he underwent his 2nd open-heart surgery.
Rémi is now doing well and hits the slopes of Mont Sutton every weekend!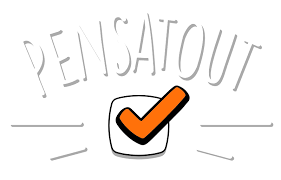 New service
The En Cœur Foundation is proud to be able to offer a new service for young people transitioning to adult care! We are part of the PENSATOUT web assistant organizations, which helps young people manage their health and confidently navigate their transition to adulthood.
The project is carried out in collaboration with the Association de spina-bifida et d'hydrocéphalie du Québec (ASBHQ).
Stay tuned for the launch!